GUSTAV, THE FOREST KEEPER
SYNOPSIS
Gustav the Forest Keeper is a preschool series aimed at 4-8 year olds centered on the adventures of Gustav, a young forest spirit following in his Forest Keeper father's footsteps, as he protects the natural balance of the Gavotte Forest.
Though Gustav's own Forest Keeper magic is mysteriously dormant, he doesn't let that slow him down. He uses his ingenuity and imagination to create wonderful inventions which allow him, along with help from his best friend Rita the Bee, to keep the forest dwellers of the forest happy and safe.
So come along with Gustav and uncover new kinds of forest magic and mystery with each rollicking adventure!
TITLE
GUSTAV, THE FOREST KEEPER
TARGET
Kids aged 4 to 8
FORMAT
26 Episodes × 11mins (1st Season)
GENRE
Fantasy, Comedy
STYLE
Cut-out Animation, Harmony
SERIES OVERVIEW
As a FOREST KEEPER, GUSTAV is tasked with maintaining the delicate balance of the GAVOTTE GOREST. Each episode begins with a new trouble arising, caused either by a well-meaning forest dweller accidentally disrupting a natural process, a nefarious villain making an intentional attempt to bend the forest to their will, or occasionally human pollution intruding in a harmful way. Once Gustav is alerted to the trouble by one of his handcrafted ALARM SYSTEMS, he rushes to save the day with his satchel of incredible FOREST KEEPER TOOLS and his trusty partner RITA THE BEE by his side!

Gustav and Rita make an action-packed FIRST ATTEMPT to resolve the issue in the forest, but their efforts only throws the forest deeper into slapstick chaos. Even though Gustav's intentions are good, the relationships that govern the Forest are complicated and he has a lot to learn!

Now that things are really out of control, Gustav and Rita are forced to reconsider their strategy. At this point they are able attune themselves to the world around them and a deeper FOREST MAGIC IS REVEALED in an imaginative fantasy sequence. These sequences communicate the wonder and mystery of the natural world in a playful and exciting fashion. Armed with this new perspective, Gustav and Rita are finally able to set things right in a whimsical climax.
With the forest balance restored, Gustav REPORTS ON THE DAY'S ADVENTURE to his Forest Keeper father, the majestic and inscrutable GODFRIED, in a striking moonlit coda. All is well for now, but anything could happen next!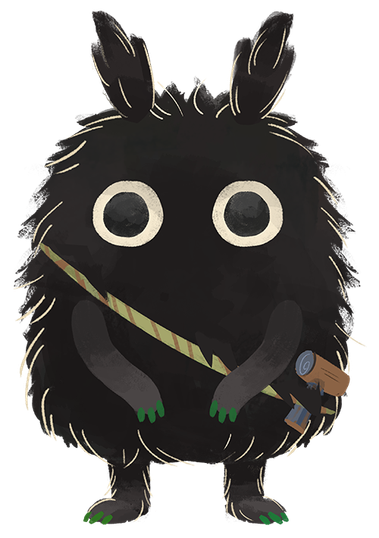 GUSTAV
GUSTAV is a brave little forest spirit with a VERY big a silly side. Despite the fact that the Forest Keeper magic he's supposed to have access to hasn't manifested, Gustav approaches his duties with unusual creativity and irrepressible joy.Although sometimes Gustav's childlike perspective on the inner workings of the forest can cause him to make matters worse when he tries to help, he never gives up. All he has to do is look around him for inspiration to get an idea for a new invention or plan of attack!
RITA THE BEE
When RITA THE BEE saw Gustav in action on his first day as a Forest Keeper, she decided right there and then that she wanted to be a Forest Keeper too. And why should the fact that no honey bee has ever had the title before stop her from trying? Despite the fact that Gustav's siblings and her own bee family think her quest is silly, Rita is undeterred. Sometimes that confidence can lead Rita to promise too much or accidentally drag Gustav into a sticky situation, but Gustav will always be there to help her set things right.
STATUS
AVAILABLE:  Show Bible and Pilot Script
AWARD
2020 Tokyo Animation Pitch Grand Prix
SCRIPT REGISTRY
WRITERS GUILD of AMERICA WEST: 2137305
WRITERS GUILD of AMERICA EAST: 1348718